It's no longer news that Game of Thrones is one of the most watched TV series in the history of TV. It almost seems like a crime not to be a fan of the popular series.
In 2016 alone, Game of Thrones won 12 Primetime Emmy Awards and has also been recorded as one of the most expensive TV shows produced as of 2018.
Even though the series is an adaptation of George R.R Martin's fantasy novels, lots and lots of the scenes were filmed at real life locations in different countries.
The series is popular for its historical and dramatic locations that YOU can also visit. No doubt, these real life locations have become points of tourist attraction.
If you're a Game of Thrones faithful, knowing that you can visit the actual filming locations of the series should get you excited.
So, if you're thinking of your next tourist destination, consider visiting the following 5 Game of Thrones' filming locations:
Kingsroad – Dark Hedges of Northern Ireland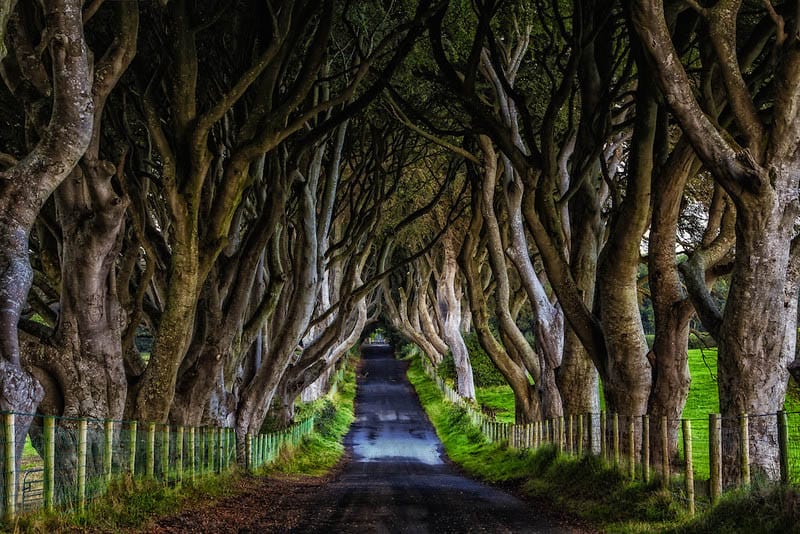 Kingsroad was filmed along the picturesque Dark Hedges of Northern Ireland. It is reportedly the most photographed location in Northern Ireland.
It's such a beautiful place for tourists to take a leisurely stroll and take amazing pictures!
2. Dragonstone Beach – Itzurun Beach, Zumaia, Spain
The real life location of the Dragonstone Beach where Daenerys Targaryen finally returned to the shores of Westeros in season 7 is Itzurun Beach, beside Zumaia in the north of Spain. It's such an absolutely beautiful place to visit.
3. Highgarden –Castillo de Almodóvar del Río 
The filming location for Highgarden, which is the home of House Tyrell, taken by Jaime Lannister is Castillo de Almodóvar del Río in the Andalusian province of Córdoba, Spain. A visit to this location will definitely give you a good experience.
4. Daznak's Pit – Bullring, Serville, Spain
The Great Pit of Daznak also known as Daznak's Pit is the biggest of the fighting pits of Meereen, seen in season five, episode nine, is actually the Bullring in Seville, Spain.  A trip to this location would definitely leave you with indelible memories.
5. The House of the Undying – Minceta Tower, Croatia
The House of the Undying, which is the headquarters of the warlocks in Qarth, where Daenarys was looking for her dragons was filmed at Minceta Tower, Croatia. Regarded as the symbol of the city, Minceta is said to be the most beautiful and remarkable fort of Dubrovnik.
I don't know about you, but for me, these iconic destinations are calling my name already!
If you do respond to the call, and you'd like to visit any of these Game of Thrones' real life filming locations alone or with your loved ones, www.travelstart.com.ng has an integrity of giving travelers a fulfilling traveling experience at very cheap flight rates.
Make sure you take plenty of pictures when you visit because the memories are worth keeping forever.