Some weeks ago, I was chatting with a pregnant friend and she said she was craving fish roll and wanted to make some.
Suddenly, I also started craving Nigerian fish pie.
But I'm not pregnant sha o. Hihihi. Amma nursing mother.
Even though I often make very delicious chicken pie and meat pie, I've never made Nigerian fish pie, so I decided to give it a try.
I searched YouTube and Google for some guide but there isn't much information on Nigerian fish pie as there is on meat pie (Yes, emphasis on Nigerian).
But the good thing is that the method is the same, the difference is just the filling.
So, armed with my knowledge of meat pie and the scanty information I got on the internet, I baked the most delicious Nigerian fish pie I'd ever eaten.
No kidding.
Even hubby confirmed it.
Yesterday, I made fish pie again. It was so delicious that I felt it would be a sin if I did not share the recipe today. Hian.
So, without further ado, I'll share the Nigerian fish pie recipe with you so that you also testify to the goodness of the Lord.
Hallelujah!
Nigerian Fish Pie Recipe
Dough Ingredients
500g plain flour
250g baking butter (Use high quality butter. It makes a lot of difference. I used Lurpak. It's a Danish brand).
1 teaspoon baking powder
A pinch of salt (If you're using salted butter, you may skip adding salt or just add a pinch)
Nutmeg (Optional)
1 medium sized egg(for glazing the surface of the pie)
Whole milk or water (If you use a high quality baking butter, you can use water to mix your dough but if you use a low quality one, you can use whole milk for the mixing. You'll achieve a balance that way).
Ingredients for Filling
1 large fish (Preferably mackerel. I used mackerel)
2 medium sized potatoes
2 medium sized carrots
1 medium sized onion
Red, green and yellow bell peppers (optional)
Vegetable oil for frying
Salt to taste
2 seasoning cubes
Thyme and curry taste
A pinch of cayenne pepper (I'm a Yoruba girl. I love it spicy. You can skip it anyway)
2 cups of water
1 tablespoon flour for thickening
Method
Dough
In a large bowl, mix well the flour, baking powder, nutmeg and salt together.
Add the baking butter in small cuts into the flour and mix with the tip of your fingers till you achieve a crumb-like consistency.
Add cold milk or water a little at a time and knead the dough until the milk or water is well incorporated. Be careful not to overwork your dough or else you'll end up with 'olumo rock' kinda dough.
I'm speaking from experience. They say experience is the best teacher but it doesn't have to be your own experience. It's wiser to learn from other people's experience.
If you don't have milk, you can use water. I use milk when using a low quality baking butter and I use water if my baking butter is high quality. This helps to achieve a balance.
Wrap the dough in a transparent film and place in the fridge for at least 30 minutes.
You can also keep your dough in fridge for some days or in the freezer for some weeks. I do this often.
The filling
Some people use boiled fish but I prefer the taste of fried or oven-grilled fish. I don't like boiled fish. It nauseates me.
So, cut the fish and wash. Then deep fry or grill until brown and set aside.
Dice the onions, peppers, potatoes, and carrots.
Place a sauce pan on medium heat and pour in one cooking spoon of vegetable oil.
Add the chopped onions and saute for about two minutes. Add the chopped potatoes, peppers, and carrots and add two cups of water.
Add salt, seasoning cubes, thyme, curry, cayenne pepper (optional) to taste.
Bring to boil until tender. You can add some more water if necessary.
Debone the fried fish and mash with your fingers or a fork.
Pour the mashed fish into the carrot and potato mix and mix together.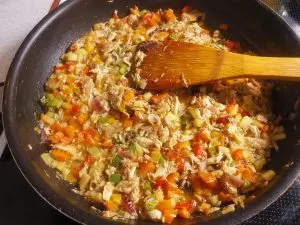 Add some more water if the mix is too dry.
*Now, there's need for some caution here. The first set of Nigerian fish pie I made, I didn't add flour for thickening because the mix was already creamy. I guess it was because of the potatoes. If your filling isn't creamy, add some water into two tablespoons of flour and mix until creamy. Pour into the fish mix.
Turn off the heat and let it continue to simmer with the residual heat for about 3 minutes.
Your filling must not be too dry, it must have some moisture.
The process
Preheat your oven to 175 degree Celsius.
Add some water into a small bowl and set aside.
Take out the dough from the fridge and place on a flat surface (I use a rolling board).
Cut a handful of the dough and roll. Use a dough cutter, saucepan lid, or a round bowl and cut out a circle.
Scoop about 1-2 tablespoons of filling unto the middle of the cut out dough, leaving out enough space to seal it up.
Rub the edges of the dough with water and seal it up properly. (Some use egg and before, I used egg but since I discovered water does a better job, I stuck to using water).
Close it up and use a fork to press down the edges.
Do the same with the remaining dough and place all your pies all on the baking tray. (Make sure you line your baking tray with aluminium foil or some margarine/baking butter to prevent your pie from sticking to the tray.
Glaze the top of each pie with the whisked egg and pierce each pie with a fork to let some steam out while baking. I give mine three piercings. Hihihi.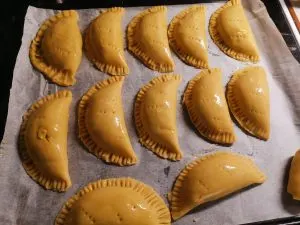 Put the tray in the preheated oven and bake for 30-35 minutes. They should be brown on the outside by now.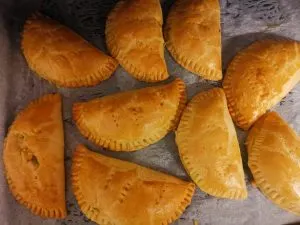 You won't believe how crunchy and yummy this is!
Enjoy it hot with any cold or hot drink of your choice.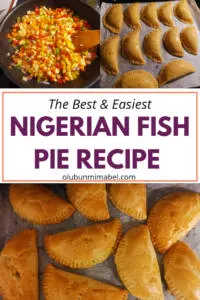 Related posts
How to prepare Nigerian party jollof rice
How to make delicious banana bread