If you are a big fan of Skinny Girl in Transit(SGIT), then 'Shalewa' i.e Sharon Ooja wouldn't be a stranger to you because that's where the screen diva captured our hearts; not only with her enviable looks and her amazing personality but also with how well she interpreted her role as Tiwa's younger sister in Skinny Girl in Transit.
SGIT is currently one of the most loved Nigerian YouTube series. What is Friday without SGIT?
Anyways, today isn't about SGIT but about Sharon Ooja who played the character 'Shalewa' in SGIT.
We love Sharon and we are not ashamed of it. Not only is she lovable, her cheerful demeanour and captivating smile is infectious.

I'm sure a lot of her fans would have been wondering who Sharon Ooja is. It's just normal to want to know more about someone you love. So, here are things to know about her:
Biography
Full name
Sharon Ooja Egwurube
Birthday
6th April 1991
Tribe & Nationality
Sharon Ooja is from Benue state but she was born in Kaduna state and raised in Jos, Plateau state. Sharon describes herself as "a full northern girl."
Education
Sharon Ooja is a graduate of Mass Commuication from Houdegbe North American University, Benin Republic.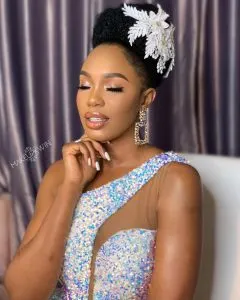 Sharon Ooja Movies
Skinny Girl in Transit
Coming from Insanity
Moms at War
From Lagos with Love
Lara and the Beat
The Men's Club
Gidi Up
Jenifa's Diary Season 12
Other Works
Sharon is not only an actress but also a model and a red carpet host. She hosted the 2017 GTBank Fashion Weekend Red Carpet Show with Timini Egbuson.
Marital Status
Sharon Ooja, in an interview with Wazobia Max said she's single, not just that, she's single and open to relationship (as at the time of writing this post).
However, the delectable actress expressed concerns over the kinds of guys that have been approaching her.
Most of them hardly see beyond her physical appearance and they tend to think all she cares about is material things. But Sharon passionately expressed that she is more than that and that she's attracted to intelligent men who she can have intelligent conversation with.
She desires that men who approach her sees beyond 'Sharon Ooja, the pretty actress', and realize that she has much more to offer than her good looks.
Update: It seems Sharon has found love. While she didn't say specifically that she's in a relationship, some of her Instagram posts insinuated this.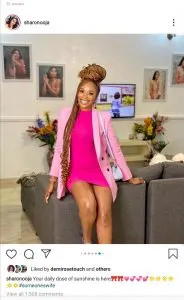 Sharon Ooja and Timini Egbuson
It's no news that Sharon Ooja and Timini Egbuson share a palpable chemistry, especially in Skinny Girl in Transit; so speculations have been flying everywhere on whether the two are dating.
Some gossip blogs even confirmed that they are dating. But Sharon said emphatically that she and Timini Egbuson are not dating.

You see why you shouldn't always believe everything you read on gossip blogs and in the news?
Religion
Sharon Ooja identifies as a Christian. She speaks so passionately about God and shares Bible verses on her Snapchat. Her Instagram profile also attests to her faith.
Family
Sharon Ooja enthuses over her family – her mum and sisters especially. In an interview with Wazobia Max, she said that she has so much love to give because her family literally chokes her with love.
Sharon Ooja's Awards and Nominations
City People Movie Award for Best New Actress of the Year (English)

Other Things to Know
She's very playful.
She's intelligent.
She's a fashionista.
People assume she's a stuck up babe but she's jovial, humble, and homely.
She can't do without her phone and lip gloss.
Contrary to what people think, she's not materialistic.
She loves children.


Go Sharon, we love you!
Related Posts
Simi and Adekunle Gold's Wedding
Download Promise by Adekunle Gold and Simi