Olalekan, a blogger, is married to Oluwakemi, a registered nurse.
They reside in the UK and are blessed with two beautiful daughters.
Enjoy their interview:
How long have you been married?
Customarily, we got married on the 20th of August, 2016.
Kemi: I met him online through my friend who owns this blog.
Lekan: It was love at first chat. I talked with Olubunmi Mabel for the first time on the 10th of January, 2016 and she told me she had a friend.
So we had a chat on WhatsApp that night and in just 12 days, we started the thing.
I think the 27 minutes call with Olubunmi Mabel bewitched me into loving her.
And her Facebook timeline was over 70% of all I needed to make the decision. I couldn't have married a dunderhead, you know.
In a few words, describe your spouse and how he/she complements you.
Kemi: Babe, as I fondly call him, is very straightforward and outspoken. He's overgenerous "if there's any word like that"… He can give out his head. Lol. While I am timid, he's very bold and blunt. He's also a 'go getter'; he's internally motivated while it takes extra external force to get me on my feet… That way he complements me.
Lekan: I'd say, she is a gold mine and since I studied gold extraction mentally, she's been a ground for monumental exploration.
Most importantly, she's very content and a good cook. I can trust her with my all. I can achieve anything with my wife, even when the chance is slim. She can sacrifice anything for a cause she believes in.
I think little to nothing about what I eat or wear. I can stay all day without thinking of food or even bathing but sit down before my laptop to work.
I have some level of obsession for success that I neglect the little things I should do for myself and she's become my reset button on that. She complements me that way.
What do you wish your spouse improves on?
Kemi: I wish he talks less… Like less. Then, I wish he dedicates more time for spiritual things than he does.
I also wish he improves on his personal hygiene. So, I don't have to nurse two babies, trying to bath one and forcing the other to bath.
Lekan: Since we got married, I've added more fat than I've lost. So I wish and pray she just cooks all her delicacies without me getting fatter. I also wish, pray, ask, and desire she invests more in her libidinal impulses.
Do you run a joint account? If not, why?
Kemi: If by joint account you mean putting our money in same account, then, No. But eventually, we spend everything together. We bring it to the table and decide where every naira and dollar goes.
Lekan: Her answer sufficeth.
How do you keep romance alive in your marriage?
Kemi: For us, it appears like it's automatic… Really… Because Babe is a comedian and I, joker. The only time we are serious is when we have a misunderstanding. At other times we act silly, and I mean silly.
Lekan: I learned earlier enough that Romance doesn't make sense so I've practically been losing my senses to doing foolish things. Yea, it doesn't make sense for my wife to say, "Babe, help pick that stuff there", when she's not an amputee and even closer to the stuff than I am. To be romantic, you need to be a fool!
Which house chores do you take care of?
Kemi: Cooking, caring for the baby, washing & cleaning.
Lekan: Caring for the baby, washing, cleaning, and cooking. I bath the baby and wash my wife's stuff – including her panties – when necessary.
My wife can't wash the towels so I've always done that (Don't tell her I said this).
I wash the bathrooms all the time. I clean the house too. And above it all, I am an experienced water cooker. I cook water for the family to bath every now and then. I am as responsiBOO as that!
Arrange the following in order of importance to you: sex, communication, money.
Kemi: Communication, money, sex.
Lekan: Sex, Money, Sex. Money and sex already have communication built-in.
What are the most important lessons you've learnt in marriage so far?
Kemi: Errmmm… Really, I've learnt a lot of things, enough to make a book. But I'll just share one very common one… Never compare your spouse with others. Yeah. Never.
Lekan: A romantic relationship has no special life anywhere – your marital life is an offshoot of your singlehood. If you've got to be successful as a married person, your singlehood will be a template for that.
Why do you think married people cheat?
Kemi: Well, many reasons actually. I think sex is one major reason. When a party is starved of sex, he/she may be tempted to go extramarital.
Lekan: This question is like asking why people get sick. You see, many who are serial cheats have long been in the business. It hardly jumps on people in marriage.
To me, "many" people who cheat aren't the starved. Some have 'wives' at home and still cheat.
Unfaithfulness in marriages often gets built up from one flirtatious experience to another.
And as you may rightly guess, a lot of things drive unfaithfulness in marriages and some of them are the life one lives before getting married, poor companionship, circumstances not well-managed, and so on.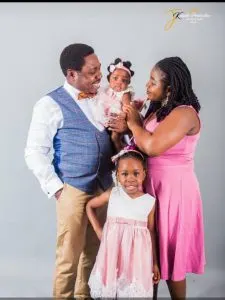 God bless your marriage, Kemi and Lekan.
I hope you gained some insights from their interview?
If you want your marriage to be featured in this series, please shoot me an email – talktomabel01@gmail.com
Encourage the singles and married people out there. Be a part of this positive movement.