Love is beautiful, and weddings are a celebration of love.
Pre-wedding photoshoot has recently become a trend and now it seems a wedding is not complete without pre-wedding photos to grace our eyes.
Although this trend has been in existence from way back, but definitely not in the way it's done now.
Back then, couples visit a photo studio to have one or two shots with boring poses; but now, outdoor photography with creative poses have taken over.
While some people welcome the trend with both hands, some couldn't be bothered, some think it's a waste of time and resources, and some others don't understand why they should have a pre-wedding photo shoot.
Well, it's okay if you don't see the need for a pre-wedding photo shoot but you don't have to see those who do as wasteful. It's all about choice, and nothing more. There's no superiority of choice.
Hubbie and I had a pre-wedding photo shoot. I'll share with you its amazing benefits (some of which I learnt after the shoot anyway).
Why You Should Do a Pre-wedding Photo Shoot
Photo album
A lot of couples make a photo album out of their pre-wedding photos. If you had a Long Distance Relationship (LDR) like us, where you didn't have the luxury of taking a lot of pictures together, doing a pre-wedding photo shoot is one way to make up for that.
''Is it compulsory to have a photo album?'' you might as ask.
Well, it's not, but I don't think spending some months or years in a relationship without having at least ten cute pictures of you together is a cool thing.
2. For IV, banners, videos and souvenirs
Pre-wedding photos are often printed on invitation cards to make them more colourful, especially in this current digital culture, where many intending couples opt for e-invitation and video invitation.
PWPs are printed on banners, just like we did, to direct people to the wedding venue, especially if you have guests coming from far away. I'm pretty sure you don't wanna have a bunch of stranded guests.
PWPs are also printed on souvenirs to make them more colourful and give guests sweet memories of the day.
3. PWPs add glitz and glamour to your wedding reception
PWPs are usually displayed in slides on a projector at the reception giving guests beautiful images to feed their eyes on. This could also help to divert hungry guests' attention from their hunger before food is ready.
4. PWPs create and keep memories of love that you'll forever appreciate
A picture is worth a thousand words. You won't appreciate them until years later when you have to look through them again. More so, you have something to show your children, your grandchildren, and your great-grandchildren.
5. Rekindle your love for your spouse
Do you know that looking through your PWPs can refresh your marital romance and even appease you when you're angry with your spouse?
When you look at your romantic and creative pre-wedding pictures, there's this beautiful feeling it creates within you because you remember the sweet times; days when you were so in love that you couldn't wait to say 'I do'.
Personally, viewing our pre-wedding pictures usually send sweet shivers down my spine and subconsciously makes my lips part into smiles.
Pictures help us to save memories we want to keep forever, and life is all about creating memories.
If you can't afford a professional pre-wedding photoshoot, ask a friend to take a few pictures of you with a good camera phone. In all that you do, don't spend beyond your budget.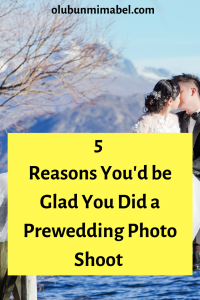 Don't Miss These
8 Things Never to Say to Your Partner During a Quarrel
How to Make Sex More Fun in Your Marriage Today
Top ten reasons most couples no longer enjoy intimacy.