Motherhood is so full of surprises!
So, I'm a first-time Mum to a four month+ old baby and each time people ask me how motherhood is, my reply is, "I don't know. I'm just going with the flow." With a shrug.
And that's me being honest. Maybe it's because I've not taken a day break from being with my baby. So I'm just doing all that I need to do.
But one thing is certain though- motherhood is filled with a lot of emotions- happiness, laughter, amazement, tiredness, and surprises.
When my bestie who had her baby a year before mine told me that nursing a baby is more stressful than pregnancy, I didn't totally believe her. I kept wondering if it could be that bad.
But now, when I consider what motherhood made me do, I can't help but agree with her. I know she has had her own share of motherhood surprises.
Although I'll choose nursing a baby over pregnancy any day any time.
Five things I never thought motherhood would make me do:
1. Going without a shower for two days in a row
Even though it's winter, it's not enough reason not to have my bath for two days.
The only time this happened was during the early months of my pregnancy when I was too weak to get out of bed.
But now, I'm usually too occupied to have a decent bath.
Like, before I know it, it's 4p.m! And it's already getting dark because of the cold weather.
It's not a frequent occurrence though. The most I usually do is go a day without a shower.
Don't worry. Keep reading. I don't smell. Trust me.
2. Writing and blogging in my head.
As a content writer and blogger, my head is usually filled with things to write and blog on.
I write them in my head until I'm able to type them which could be days or week(s) later.
I've been writing in my head this blog post you're reading for the past two weeks.
Nursing a baby is a full-time job. That's why maternity leave in some countries is almost a year. It's worth it.
That's why I think government policies should favour women, especially in countries where this isn't the case.
How can mothers be effective at work if they're sleep-deprived and stressed taking care of their babies?
You know, some days ago, I needed about four people for some writing tasks and two nursing mothers showed interest.
I told them not to bother because they wouldn't have time to do it; not because they don't have the capability to do it. I'm a nursing mother myself and I know what that entails.
Now I understand what employers do when they don't employ pregnant women, nursing mothers, and sadly, married women.
Maybe it's not that they're discriminating against them, maybe they understand that these women may not be able to give their best to their jobs because they're saddled with marital responsibilities. And every employer is out to make profit.
This is where the government should come in.
They should implement policies that will ensure a win-win situation for the employers and female employees.
3. Accomplishing so many tasks in my head.
Apart from writing and blogging in my head, I also accomplish so many tasks in my head such as making a call to someone, replying to messages, checking up on someone etc.
I do these things in my head and when someone I've been meaning to contact sends a message, I tell the person, "You know what? I've been wanting to send you a message."
And they'll go, "Indeed. But you didn't send a message."
LMAO.
Truth is, most of the time, I get distracted before I'm able to really do these things. Maybe just when I'm about to do them, my baby wakes up to feed, wants to play, needs to be cleaned up or rocked to sleep.
And that's all babies do – eat-sleep-play-poo and a caregiver is needed for virtually all of these.
The last person you should be angry with for not replying your messages or returning your calls immediately is a nursing mother, especially one whose only help is hubby (who is not even always available).
4. Feeding my baby while I do my business in the toilet.
This first happened two days after I gave birth to her. We were still at the hospital and hubby had gone home to pick up some stuff.
I needed to use the toilet because I was given a laxative. You know what that means, right?
My newborn, who was a very calm baby was crying incessantly. She was a big baby and was hungry. I struggled out of the toilet and wheeled her cot into the toilet with me. I fed her while I pooed. Yes, right in the toilet! Feel free to judge me. Hihihi.
5. Keeping a vigil to trim my baby's fingernails.
My baby's fingernails are so sharp! Long and sharp at that. I feel bad when she scratches her scalp, face, and body leaving some marks.
And the challenge is that, I can only trim her fingernails when she's sleeping and when she sleeping, I hate to disturb her so that I can have some time to myself as well. So her fingernails are usually long and sharp.
The last time I made effort to trim them, I had to keep a vigil and ensure she was fast asleep. I was so happy when I achieved that. But just a few days later, the fingernails are back to being long and sharp! Hian.
You know what? I make sure I wear hand gloves for her to prevent her from hurting herself and me with her fingernails.
I cannot kill myself.
Kudos to every mother out there!
Meanwhile, when is the next mother's day? It'll be my first mother's day celebration. I'm so looking forward to it. Somebody needs to celebrate herself.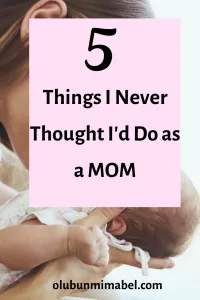 Also read
Worst Pregnancy Symptoms – Women Share