Before I got married, I'd always wanted to have a boy first because my parents had three girls.
I wanted to know how it felt to have a boy in the house.
Then, my big sister got married and had two boys! I have two cute nephews.
So, my desire for a baby boy kind of waned since there are two boys in the family.
When I got married and became pregnant, I didn't really care about gender. I was open and ready for anyone.
But when the scan revealed that I'd be having a baby girl, I was all over the moon with excitement.
Even now, I can't imagine having it otherwise. Baby girls are so cute! ?
Not that boys aren't cute as well but it feels so great to have a daughter.
However, you get to realise later that having a baby girl comes with a variety of concerns, emotions and responsibilities; things no one probably tells you. Things you get to discover on your own.
Even though I'll be writing from a personal perspective, my interview with other mothers on this topic confirmed that I'm not alone in my thoughts.
6 THINGS ABOUT HAVING A BABY GIRL NO ONE PROBABLY TELLS YOU
1. If You Weren't a Feminist, You'd Become One
Having a daughter will make you desire a world that's fair to and safe for the girl-child.
If this has always been the case for you, the passion will intensify when you have a daughter.
You'll want the best for your girl and become intolerant of a world where the girl-child is oppressed and marginalised because of her gender.
My 19 months old daughter is very active and sometimes, people make comments like,
"She acts like a boy"
"She has the energy of a boy"
And I'd reply, "So boys are expected to be strong and active while girls are expected to be weak and docile?"
I've always been a feminist and I hate gender stereotypes with passion; I won't tolerate it when they are addressed to my daughter.
I'll keep telling my girl that she can do whatever she desires to do and never to listen to anyone who says she can't do stuff because she's a girl.
Smash the patriarchy, baby!
2. You'd Want to Shield Your Daughter from the Pain You Experienced
When I had my baby in my hands after delivery, the thought that crept into my heart was, "So my daughter will have to go through all this pain and the stress of pregnancy? I better ensure she has her baby through surrogacy."
I know it sounds funny, and that would probably not happen because my daughter would be an adult who could handle the stress that comes with being a woman and a mother.
Yet, I can't but wish that I could shield my daughter from any pain whatsoever.
Oh, my baby.
God willing, I know I'll be there to give her the maternal support that she needs.
3. You'd Protect your Daughter from Molestation with your Life
I know that boys and girls get molested but we hear stories of girl-child molestation more, and it's so heartbreaking.
Apart from feeling so sorry for the victim(s), I usually also feel sorry for the parents.
I can't imagine the pain, anger, and guilt of a parent whose child's innocence was stolen from her.
I honestly don't trust myself or what I'd do if I were in their shoes.
Due to the alarming rate of child molestation, I'm more conscious of people's motives and actions around my daughter.
In fact, I watch how anyone (no matter how old) carries my toddler. If she's carried in a way that makes me uncomfortable, I collect her from such a person.
One cannot be too careful when it comes to protecting one's child.
4. You'd Want Your Daughter to Have an Amazing Relationship with her Father
I'm blessed to have parents who love me with their lives and would do anything for me and my siblings. And I love them to pieces as well.
However, I wish I was more intimate with my dad. I mean, have a father-daughter relationship where I could tell my dad practically ANYTHING.
I don't know if I'm asking for too much or if I'm being unrealistic or if it's normal for a daughter to be more intimate with her mom.
I remember growing up, that I preferred my dad to my mom. Even though I'm the second child, I felt like I was daddy's girl.
Oh well, maybe puberty and adulting got in the way.
I don't know.
All I know is that I'd love my daughter to be intimate with my husband and be able to tell him anything no matter how old she is.
Even now, the two of them act all lovey-dovey in a way that makes me happy (not jealous). And I hope that it continues that way.
I know it will because my husband is also determined to make it happen.
He usually says, "I'll be very close to my daughter."
Believe me, I'd be the happiest mom.
5. You'd Want to Be Your Daughter's Friend
Apart from wanting my daughter to be her dad's friend, I desire to be my daughter's friend as well.
I know there'll be times when I'll have to switch roles; be a (firm) parent, be a friend, be a counselor, be a teacher etc.
Above all, I hope to have a relationship with my daughter where she's so assured of my love for her that she tells me anything and she's not afraid to ask me any question.
Some daughters keep some things away from their parents because they're not sure of what their response will be.
If my daughter keeps anything away from me, I don't want it to be because she's doubtful of my love and concern for her.
I know parenting is tough and we won't always act the way we are supposed to. But I've decided to try my best to not only be a parent to my daughter but also a friend.
6. You Don't Want Boy Problems for Your Girl
I write a lot about relationship and handle people's (women especially) relationship problems.
I understand how toxic relationships can mess up a woman's life and dreams.
I don't want that for my daughter.
I don't want my daughter to be a victim of love.
I don't expect that she'd have it all sweet romantically, but I don't want her to be broken because of love. I don't want her to believe any of these love lies.
I want her to be a strong and smart woman who knows that a man's love or the lack of it doesn't define her or her worth.
You know what, let me stop beating about the bush.
I DON'T WANT ANY MAN TO BREAK MY DAUGHTER'S HEART!
Hahaha.
Honestly.
I keep imagining myself telling any guy my daughter will date that, "You must not break my daughter's heart. Ever. Don't you dare hurt her because I'll come for you! If your intentions are not sincere, better walk away now."
During my dating years, I didn't really get heartbroken, and I want the same for my daughter.
Nobody breaks my daughter's heart!
I know there is still more to discover in parenting a daughter and I'm so looking forward to it.
I'll probably update this post when I gain more insights.
I'm also looking forward to writing about 'what no one tells you about having a baby boy'!
Do you have a daughter? What have you discovered about having a baby girl?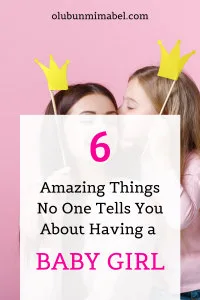 RELATED ARTICLES
How to Have a Flat Tummy After Pregnancy
12 Qualities of Super Attractive Women
10 Things I Wish I Knew Before Getting Pregnant