I met hubby a few years ago through a female mutual friend in our third year in Uni. I had absolutely no idea he was using her to get close to me.
I always sat with my friend in class, and hubby would come to talk to her and use the opportunity to say hello and exchange a few words with me.
He later got my phone number, my BBM pin. It was the world of BlackBerry phones then.
We got talking and later became friends. He travelled a lot in school.
He's into automobiles and started quite early in life, thus, had to travel a lot for business. He would always call me to find out about lectures, assignments and tests.
I remembered when he asked me to date him. It was through the phone. We were chatting and he just mentioned it. I laughed it off.
He's quite a playful person, so I assumed he was just being silly coupled with the fact that I was in another relationship which he knew about.
My relationship ended a few months later, and hubby who never relented in his pursuit tried so much to jump in.
We remained friends for a while until I decided to consider him and take our relationship to the next level.
We dated for 4 years. It wasn't all a bed of roses. We had our ups and downs but those episodes only made us better lovers.
Then we tied the knot. We've got one year down, a chubby sweet princess in the mix and forever to go.
What did I do differently?
1. I was friendly/open to friendship
I am an introvert, but when I realized that my circle of friends was really small, I started opening myself to friendships.
It wasn't easy because I had to get out of my comfort zone.
But it eventually paid off because that made me become friends with my husband.
His extroverted nature also helped in some way to break the edge I'd always built around myself.
He's quite expressive and makes friends easily. He makes me laugh a lot and that also endeared him to me.
I understood that to find love, one must be open to new relationships, friendships and experiences.
You can't shut people out of your world and expect to have suitors flooding your world.
You may also like: 5 Lessons I Learned the Hard Way in my Marriage
2. I knew what I wanted
After my relationship ended, I decided I wanted to do things differently if and whenever I was ready to try dating again.
I figured out my preferences and looked out for them in my friends and the people around me.
I was determined I was going to date and eventually marry my friend.
My husband wasn't the only one asking me out, which he knew about.
I remember I had to make a list of positives and negatives of all my suitors. He stood out because he ticked almost all my boxes.
If you know what you want, it's easy to recognise it when you see it thereby making your decisions easier.
If you don't know what you want in a man, you'll be confused and not know if a guy is right for you.
You may also like: How to Keep Your Man
3. I wasn't looking for a perfect love story or a perfect guy
No one's perfect, so there is no perfect love story.
I definitely wasn't looking for a perfect love story. I seriously doubt if that exists. I wasn't looking for a perfect guy as well because I'm not perfect myself.
I intentionally built our friendship. I got to know him very well before agreeing to date him.
I remember when we got married. It didn't feel like I had changed location and that I had made a major move.
It just felt like I had moved in with my friend, someone I can be intimate with. We have our differences and disagreements, we are both not perfect but we are able to work it out, and compromise when need to and move on.
Friendship is one of the ingredients of a happy relationship and marriage.
By friendship, I don't necessarily mean someone you've known for donkey years because we often get the 'marry your friend' thing twisted sometimes.
Your friend is someone who cares about you and who you care about, someone you can share your joys and pains with without fear, someone you can be yourself with, your cheerleader who encourages you to achieve your dreams, someone who is always there for you through thick and thin.
If you've known someone for a long time and there aren't any of these to you, then they're not your friend.
You may also like: 5 Things About You Not to Tell Your Boyfriend
4. I was sincere with him
I am not easily expressive by nature. But the little I was able to show while we were friends was sincere.
When I was in a relationship, he knew about it and respected it.
We had a major disagreement when we were dating and had a break for a few months. But we maintained our friendship.
He noticed I was slipping away right before his eyes and couldn't take it, he had to do all he could to make us get back together.
One of the things that ruin a relationship is dishonesty. I don't think there's anyone who likes to be lied to.
It pays to be sincere, hiding nothing about you that a partner should know.
Also, I learnt that it pays to be authentic, being who you are and letting a guy love you for the real you instead of pretending to be someone else.
Don't lie about who you are, what you want in a relationship, your dislikes, and even your deal breakers.
If a guy is for you, he'll accept and love you for who you are.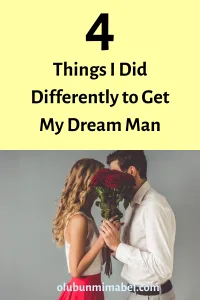 This is a guest post written by Olamide Rejuaro, a computer engineer, a baker, a wife, and a mom.
I understand that no two love stories are the same but we can always learn from one another's story, what we did well and what we didn't do right.
I hope you learn one thing or the other from Olamide's love story in your quest to finding your dream man.
If you want to share your story with the world, kindly shoot me an email: talktomabel01@gmail.com