They say men are adventurous in nature and they love the thrill of the chase.
Oh well.
What happens when the chase ends and you start dating or even get married?
How then can you keep him interested or sustain his interest without even making so much of an effort?
Below are helpful tips on how to keep him constantly interested in you:
#1 Have an interesting life
If your life isn't interesting, why would anyone want to be a part of it?
I'm not saying you should be everywhere or have it all but the question is, do you love your life?
Do you have a passion that makes your life exciting apart from having a man or a relationship? Or does your man know that he's the reason you're happy and living?
If the latter is the case, then he has the power to determine what becomes of your life because you've made him the pillar that holds your life.
You're the pillar that holds my life….
Master…
Don't get me wrong.
You should be happy in your relationship and your man should make you happy.
But, what if he doesn't?
Does that mean you won't be happy? Remember he's just human like yourself.
If you want a man to remain interested in you, have an interesting life outside of him. Love your life with or without him. Don't make him or the relationship the sole purpose of your existence or happiness.
According to Sherry Argov, author of Why Men Marry Bitches, "When a man sees you are happy with him but you can be just as happy having nothing to do with him, that's when he won't want to leave your side."
#2 Don't be afraid to lose him
Yeah, you read right.
Let him be the one who is afraid to lose you and not the other way.
Women have always been the ones afraid to lose men, and this never ends well.
That's why you see a thousand and one books and articles on how to keep your man… Blah blah blah.
Have you ever come across anything on how to keep your woman?
Nah…
But we are changing the rules of the game NOW.
That's why I wrote How to be a Woman a Man is Afraid to Lose.
Honestly, we should be the chased, not the chaser.
You probably have a great guy.
Applause.
That's awesome.
Appreciate him. Cherish him. Love him.
But don't live in fear of losing him. Let him be afraid to lose you. That's how you keep him interested.
If you do what I say in #1, this will be pretty much easy.
If you're afraid of losing him, you'll start getting insecure and possessive. And nothing turns a man off more than these two things.
Be yourself.
See, keeping a man interested in you has much to do with who you are than what you do.
Many women lose themselves in a relationship. They stop loving what they used to love or doing what makes them happy.
They think becoming a clone of a guy will make him wanna be with them.
A man doesn't want another person like himself. He wants a woman whose code he'd work to crack. Why rob him of that job?
While it's normal for partners to rub off on each other, you shouldn't lose yourself in a relationship.
Some women even lose their friends and family because they're in love or even married.
Hello…
You're wrong. You'll realize that soon.
Read: 15 habits of an authentic woman
#4 Be the woman he respects
Again, you don't come across articles on how to make a man respect you because we've been raised to believe that women want love, men want respect.
To me, there's no love without respect.
I believe in mutual love and mutual respect in relationship and marriage.
A man can love you without respecting you because he's been made to believe that women don't need to be respected, they only need to be loved.
This is why you need to teach him how to respect you.
How can you do this?
Women have been made to believe that the greatest need of man is sex, so to keep a man, you need to be an expert in that department.
Sex is a physiological need of humans (including women; people talk like we don't have desires), but is that what life is all about?
Every reasonable human being has dreams and life goals to achieve.
A real man has ambition! He has a picture of the kind of man he wants to be.
A man will never lose interest in a woman who helps him to become that man.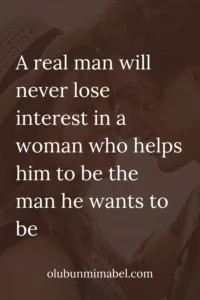 So, before you go slaving in the bedroom department, do you know his deepest desires, ambitions and life goals?
Any woman can give him cookie but not every woman can help him fulfil his dreams.
I'm not saying you should help him with his dreams at the expense of yours. I've always encouraged women not to forget to build their lives because they're building with a man.
But while you're building yours, you're also helpful to him.
And some couples have been fortunate enough to have similar dreams, so their passions are in sync with each other.
Men won't lose interest in this kind of women because they know how much value they add to them.
Don't just be all about the bedroom thing, even as a married person. Be more. You can be indispensable.
Any woman can touch his body but not every woman can touch his soul.
#6 Hold it
You see this very point I'm about to explain eh, most men will not be honest with you because they won't get laid (in the words of Sherry Argov).
But this is our business, women.
If you're a single lady, you have the power to determine if he's interested in you at all.
Sexual attraction is very normal in a relationship, and you shouldn't even marry someone that the mere thought of his hands on your body makes you cringe.
Okay…so this is the point where I paused writing and asked my husband, "Babe, did we do it before we got married?" ?
He smiled and replied, "No, we didn't."
I asked further, "Would you still be interested in me if we'd had done it before we got married?"
"Yes, of course. My intention was to marry you, so that wouldn't change anything."
We continued talking, and the discussion only confirmed my opinion.
Sex doesn't change anything if a guy's intention towards you is right.
The question now is, how do you know if a guy wants you for keeps or the romps?
>>Here's how to know
So, giving in to him when you are not even sure of his intentions will only get you heartbroken especially if you want something real.
This is why it's better to keep your coochie until the time is right.
If a guy loses interest in you because you don't want to be physically intimate with him, then that is the only thing he wants you for.
You can take that to the bank, hun.
Otherwise, why would he not want anything to do with you because you're not getting busy between the sheets?
It's better to err on the side of caution. You can't keep a man interested in you by giving him your cookie if he doesn't want you for keeps.
Some women can't even tell if a guy is good for them because they've become dickmatized.
Huh.
God help you, sistah.

#7 Be interesting
Have you ever wondered why men love spending time with their guys?
Because they love an interesting company.
Sherry Argov writes, "Men don't marry the woman who is perfect. They marry the one who is interesting."
Apart from the fact that a man who likes you will want to be with you, are you fun to be with? Does he enjoy being with you? Or you're too boring, self-absorbed or dramatic to be fun to be with?
You don't have to go out of your way to be engaging, everything still points to you being a better version of yourself, for yourself, not for any man.
Don't just be a man's woman, be his friend. Friendship makes the relationship makes sense.
You can't take the place of his friends and he can't take place of your girlfriends but you can be each other's friends and enjoy being together.
#8 Be intelligent
Intelligent women are smart. Most men claim to be sapiosexual.
Well, naturally, intelligent people are attractive.
Real men love to be with women they can hold meaningful conversations with.
Read >> 7 Habits of Highly Smart Women
#9 Create memories
Relationship (and even marriage) is all about creating memories.
What makes your presence valued in your absence is the memories you leave in a person's heart.
Spend time to create beautiful memories of you in his heart.

#10 Again, get a life
This is just to remind you of the #1 point in case you've forgotten. I know it's been a long read.
Please, get a life. Live passionately. Do what you love and make sure the man you love supports what you love to do.
Love is beautiful, but there's more to life than romantic relationships.
Life is beautiful, enjoy it. Love is about finding someone to enjoy it with you.